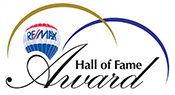 Thank you for taking the time to visit this web site. There are plenty of realtors in the Quinte area and Debra is one of the most recognized. Her market knowledge, negotiating skills, reliability integrity have enabled her to build many long term and satisfying real estate relationships. With over 30 years of experience (over 20 with Re/Max) she has been a consistent top producer. In 2012, she was awarded the prestigious Re/Max Hall of Fame Award. She has also been recognized by Re/Max in their top level 100% Club, Executive Club and the President's Club by Re/Max Ontario-Atlantic Canada Inc.
Debra loves her job and enjoys finding the perfect home for her buyers and successfully marketing the homes of her sellers. Her love of people, history, architecture and communication are the winning combination for a good salesperson.
She began her career in real estate in 1986 in downtown Toronto, working for Terry Martel Real Estate, before returning to her home town of Belleville in 1990, where she started with McKinney Realty. She later moved to Re/Max Quinte when her Broker bought the local franchise.
She is proud to support our Canadian military and has been successful with many DND relocations. She is a member of the Federal Government's Integrated Relocation Program (IRP) through Brookfield Global Relocation Services as a Third Party Service Provider (TPSP).
Debra loves to sing and has performed at many private and corporate events and fundraisers in a cabaret act with her friend pianist Duncan Cooper. She has performed in several musicals at the Belleville Theatre Guild, at Eastminster United Church, in the Musical Gift Series at the Belleville Public Library, for Probus Club functions, Wesley United Church's Annual Variety Show, Beaufort Pub and more.
She was thrilled to be invited to perform on the grand Empire Theatre stage in a show called Bellevegas ll, Hip for the Holidays, 2014, Bellevegas 111 Hipper Than Ever in 2015 and Bellevegas 1V and The Big Band Sessions in 2016.
Debra is a proud supporter of the arts and has always been very active in live theatre. In July 2013, The Grapevine, a magazine based in Prince Edward County, featured an article profiling several local actors and theatre companies. See pages 20, 21 for the article.
In May 2017, Debra directed a play called The Good Body, by Eve Ensler. This hard hitting and funny script, featuring a cast of 10 women, was about embracing your body.
In 2015, she performed in two scenes in The Downtown Belleville Haunted Ghost Walk, as Nellie Trainer at Market Square in scene 1 and Mrs. Yeomans, wife of alderman Lewis Yeomans, son of Asa in scene 7. Both were self-written pieces about slices of Belleville history.
In May 2014 and again in April 2015, she performed with several other actresses in Love, Loss and What I Wore by Nora and Delia Ephron.
In April 2014, she appeared as the legendary Mae West at The Empire Theatre, Belleville, in a fundraiser for Three Oaks Foundation in a fashion show/fundraiser called Catwalk Time Machine, to raise funds to build a home for abused women.
In March 2014, she volunteered for the Quinte Children's Foundation Gala, entitled Carnaval noir. She "read palms" in the photo booth.
Debra was introduced as The Real Estate Professional on TVCOGECO Belleville Senior Life programme with host Karen Williams in 2014 and again in 2017. Click below to watch episode 1:
In November 2012, Debra produced a production of The Importance of Being Earnest by Oscar Wilde at the Belleville Theatre Guild. The play was a huge box office hit during its 3 week run at the Pinnacle Playhouse.
Debra won an award at the Eastern Ontario Drama League 2012 Spring Play Festival in Ottawa for integrity and consistency in the performance of a Challenging Role. Debra played the nurse in the Bay of Quinte Community Players production of Pathways. She was also one of three actresses in the five play festival, who were nominated for Best Actress.
In February, 2012 (Heritage Week 2012), Debra appeared as a Panelist (speaking as the real estate professional) for the Heritage Belleville Committee, for the Presentation of the 2012 Heritage Belleville Awards.
In January, 2011, Debra was awarded the 20-year service plaque from the Quinte & District Real Estate Board.
In November, 2009, Debra performed at The National Air Force Museum of Canada, located at 8 Wing Trenton, in a play called Bomber Command. Performed below the wing of the sole remaining Halifax Bomber in the world and set in 1943, it was the story of the lives and loves of the men who flew on these dangerous missions. She played a night club singer and sang Let's Get Lost and I'll Be Seeing You.
In May, 2009, she competed in Dancing With The Stars of Quinte at the Yardman Arena (click here to view the video on YouTube). Her partner was Tom Secretan, Chief Warrant Officer, 8 Wing of CFB Trenton. They danced the Viennese Waltz. Over $8,000 was raised for Big Brothers Big Sisters of Hastings Prince Edward and Volunteer and Information Quinte.
In September, 2008 Debra was awarded the prestigious Arts Recognition Award for her outstanding contribution to art and culture in the community. She has supported arts with her artistic talent and business skills.
She produced a vintage clothing fashion show in May 2008 at The Empire Theatre entitled Flashbacks, a celebration of The Belleville General Hospital's Auxiliary's 70th Anniversary. This highly theatrical production featured over 100 volunteers, with clothing loaned from members of the community, Toronto's Tribe Trading Company, vintage nurse's uniforms and auxiliary uniforms, with a finale of seven wedding gowns from throughout the decades complete with fresh floral bouquets, exact replicas of those carried. The original photo of the bride on her special day was projected behind the model.
She produced a children's play called A Thousand Cranes in April, 2005, featuring a cast of 60, primarily children, which raised $12,000.00 for The Canadian Cancer Society. The photograph (left), is of Debra with Matthew Del Grosso (Fundraising Coordinator for the Canadian Cancer Society, Belleville).
In June, 2008 she performed the lead role of Mama Rose in the musical Gypsy. In 2006 she performed in Noises Off at The Empire Theatre.
In 2004 she produced a Valentine's Day murder mystery dinner theatre event, which raised $10,000.00 for the BTG elevator addition. In October, 2006, she produced The Rocky Horror Halloween Dance, which raised $3,000 for The Belleville Theatre Guild and The Quinte Humane Society.
She served ten terms as Publicity Director for the Belleville Theatre Guild. She handled all the advertising, wrote press releases, took publicity shots, coordinated media and web site updates, the annual brochure, posters and programmes, with their designer, Rob Robinet.
Debra was the Chair for The Festival of Trees Holiday Home Tour from 2006 through 2010. She also spearheaded the position of Food Chair for the Festival in 2003 and 2004. This great fundraising event raises money for The Quinte Arts Council.
She has been a strong supporter of many charities and has produced, directed, commentated and performed in many fashion shows for Habitat for Humanity, the Quinte Ballet Guild, The Canadian Cancer Society, the Quinte Rebekah Lodge and the Alzheimer Society and for several bridal fashion shows. She has also been a volunteer on the Sexual Assault Crisis Line.
In 1999, she won a Best Director's award at the Eastern Ontario Drama League Festival for Act Plays for the original presentation of Mail Order Annie.
In 1998, she was the Chairperson of the Habitat for Humanity Home Tour. She has also devoted her time in support of the Belleville General Hospital Foundation and Belleville Parks and Recreation.
She was nominated for Business Woman Of the Year for two years in a row and succeeded as runner up in that capacity in 2003.
Debra began her career as a copywriter with CHEX in Peterborough, she then moved to downtown Toronto to work as a production assistant with CITY TV. She co-owned her own vintage clothing shop called Tom Foolery in both Cabbagetown & Yorkville.
She celebrated 28 years of marriage with Dave in October. He is a professor at Loyalist College, teaching computer software on-line as well as specialized training. They both love to dance, enjoy listening to music, attending live theatre and art galleries. They also love to cook and entertain in their red brick home circa 1932 in Belleville's Old East Hill with their toy poodle Blaze