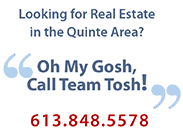 ________________

Relocating outside of the
Quinte Area? I can refer
you to a qualified agent
anywhere in the world
Click here for more information.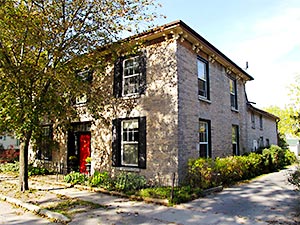 Regency style stone home circa 1859 in Belleville's Old East Hill
This beautiful home is among the very few stone houses in Belleville
The area was known at that time as Meyer's Hill. Three years later it was changed to Meyers' Terrace
This home was built by the Scottish carpenter Thomas Rutherford. His wife was Captain John Meyer's daughter, Susan
Meyers is considered to be the founder of Belleville
It was described in the Hastings Chronicle on Wednesday, July 13 1859 page 2 col 7, Building Operations in Belleville, "Mr. Thos. Rutherford has just completed a stone building on Meyers' Hill. It is a neat structure with cottage roof and is occupied by the Rev. Mr. McLaren. Its cost we have not learned."
According to the 1861 census for Belleville Rev. N. McLaren and family: Marjorie age 27, Jane age 4, Elisah age 2, Jane Agnus a servant from Ireland age 35 all residing in the stone house. Thomas Rutherford and family are also living here. Knowing how important his faith is to him, I expect Rev. McLaren is living in the main block of the house and the Rutherfords are in the large wing. Thomas and Susan have 5 children.
Thomas Rutherford died in 1900. He lived in Belleville for 55 years. The house remained in the family for many more years.
Another notable resident of the home was Samuel T. Greene, who founded the Ontario Association of the Deaf in 1886. His portrait hangs with a wooden nameplate at the sir James Whitney School for the Deaf in Belleville
5 bedrooms, 3 baths
Two staircases
Three fireplaces
Three bay facade has a centered entrance with a large inset door and stained glass transom and side lights
There are original corbels at corners and flanking windows
The front portion of the house, the original structure, features 5 rooms on the main and 5 on the second level
Formal living room with wide plank pine floors and gas fireplace
Formal dining room with crystal chandelier

I can show you any house in the MLS system!
Parlour with coal fireplace (not used) and hardwood floors
Eat-in family kitchen with oak cabinets and new laminate floor
There are four large bedrooms at the front portion of the house
The large centered bath features a claw foot tub and a shower stall
Full high and dry basement with laundry, work bench and lots of storage
The roof at the front of the building is asphalt
The rear wing, a later addition, is narrower and lower
It features two very large rooms on the main and four on the second level
The second kitchen is a commercial kitchen for catering (easily removed)
The large rear family room has new oak flooring and a gas fireplace
The upper level has a very large bedroom, two baths and a spacious landing
There are two baths, a two piece and a four piece with a claw foot tub
There is a crawl space under the back portion of the home
The roof at the rear of the home is steel
All windows have been replaced
The gas furnace is newer
There is a new rental gas water heater
There are two electrical panels, both on breakers
There is a new storage shed at the rear
This home features parking for four cars with lots of room to build a garage
Access to the rear of the home is via an urban laneway that is shared by three other homes
The back yard is fully fenced
There is a partially covered deck, pond and interlocking brick patio with gazebo
There is plenty of room for pets and a garden
Many upgrades by the current owners have been done with the highest integrity
This elegant home still maintains the grace, refinement and décor of the era
It would be an ideal spot to raise a large family or for a Bed and Breakfast
It is located steps from three Catholic schools
It is just a short walk to the centre core with its fine shopping, restaurants, theatres and art galleries
The Riverfront Trail runs through the centre of town on the west side of the main street
This is one of Belleville's finest architecturally significant homes
Become part of Belleville's rich history when you buy this architectural and storied gem
This magnificent home is approximately 3,800 square feet in total

Excellent value at $353,500


Click to view this and other listings

Information about Belleville